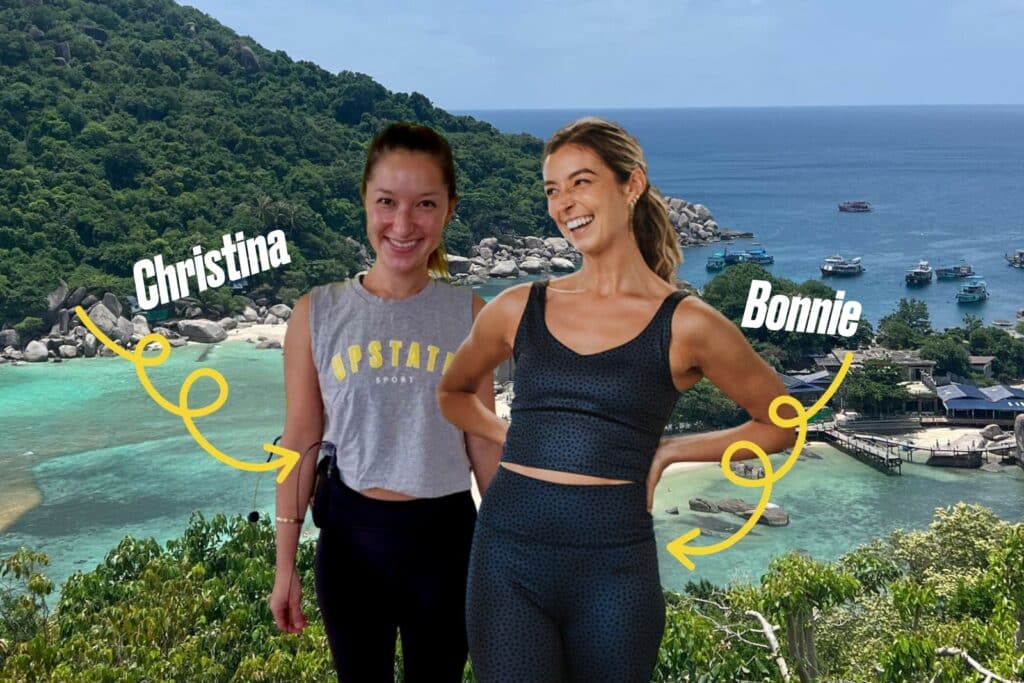 Meet the Dynamic duo of Bonnie and Christina
What excites you most about the Retreat?
Bonnie: The snorkel excursion is incredible. I am excited to be back on those amazing islands.
Christina: Chilling poolside, the snorkelling trip, and escaping the winter weather for a week!

What's your favourite thing about the retreat location and have you ever been to Thailand?
Bonnie: Reformer classes everyday on retreat is definitely my favourite thing about this location. You can even catch a glimpse of the ocean from the reformer studio window. The last retreat was my first time to Thailand, I loved it instantly.
Christina: I haven't been to Thailand since I was really young so I'm excited to go back and soak it all in, especially in Koh Samui
What's one thing you hope people take away from this retreat?
Bonnie: I hope people reconnect with themselves and find a sense of joy and community to bring home with them.
Christina: Memories! A week of relaxation and fun with a great group of people
Describe your class vibe?
Bonnie: My class vibe is supportive and empowering. I want to give you all the tools to succeed whilst being your biggest cheerleader along the way.
Christina: I like to bring a strong dynamic practice for Power Flow, heaps of motivation in Reformer, and restorative grounding vibes in Yin. I hope members always feel supported, challenged, and empowered!
Quick Fire
What would be your go-to smoothie recipe?
Bonnie: Tropical for sure: pineapple, mango, banana, spinach, coconut water and vanilla coconut yogurt
Christina: Anything with mango
What is your role at Upstate and which classes do you teach?
Bonnie: I have recently transitioned from my Yoga Sequence Trainer role to Retreats + Events Coordinator/Instructor
Christina: I am the Melbourne Roster Manager and I teach Yoga and Reformer
Which studio/s are you based at?
Bonnie: After 4 years at the Geelong/Torquay studios, I will be at Balaclava from mid December.
Christina: I'm based in Melbourne and teach mainly at the Balaclava studio
Sleep in or morning sweat?
Bonnie: Morning walk, night sweat sesh
Christina: Weekday morning sweat, weekend snooze
What's in your (retreat) bag?
Bonnie: Natural Mozzie repellent patches. They love me 🙁
Christina: Sunnies!