Treat yourself to seven days of heavenly rejuvenation in sun-soaked Bali!
---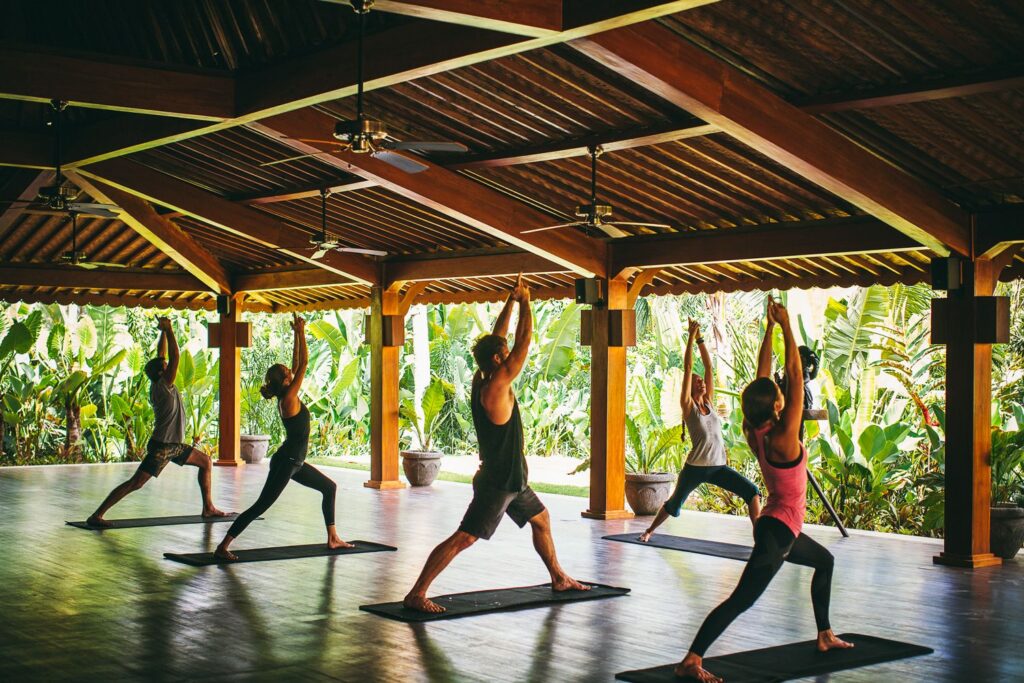 UP YOUR VIBES RETREAT
Please Note the October Up Your Vibes Retreat is SOLD OUT!
You deserve the ultimate uplifting experience and this all inclusive retreat will have you bursting with good vibes.
Strengthen your body, balance your mind and lean into all things nourishing.
You'll be staying on the tropical East Coast of Bali at luxury resort ~ Hotel Komune.
We're talking sunshine, deliciously fresh meals, immersive spa experiences, beachfront strolls, pool chills and of course ~ your favourite Upstate classes in an open air shala.
Hosted by Upstate instructors Bonnie Costa and Eleni Mann, join us for this incredible experience of relaxation and renewal.
WHEN
Oct 28 – Nov 3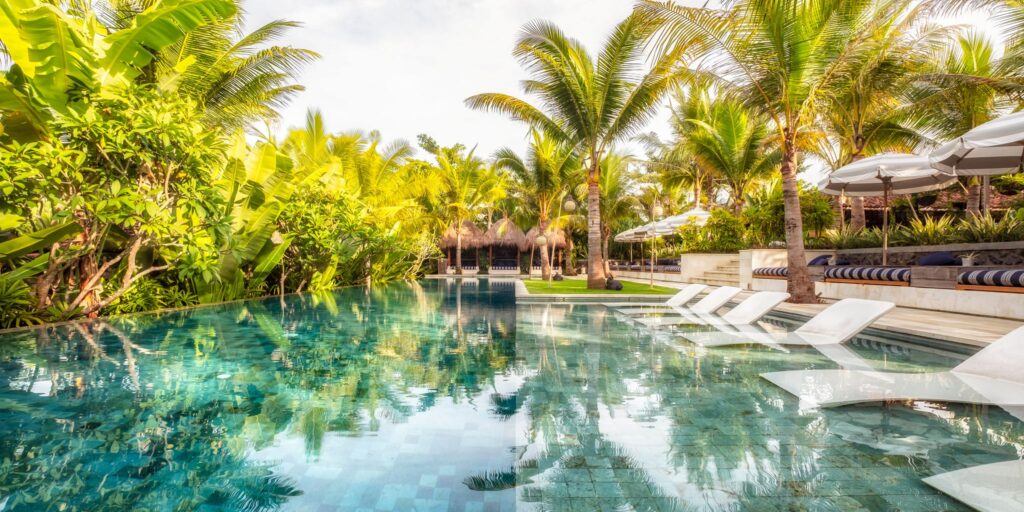 WHAT'S INCLUDED
We want you to leave feeling brighter, calmer and more connected than ever, so we've curated the ultimate Upstate retreat experience.
You'll get:
– Newest collection outfit from Upstate Sport of tee + bikers + cap (valued at $155)
– 6 nights restful sleep in luxury resort accommodation
– Welcome banquet and an opportunity to meet your fellow likeminded retreat mates
– All meals at the retreat included
Nutritious, filling and fresh: Breakfasts, Lunches and Dinners. (lunch on excursion day not included as everyone is free to choose local cuisine option)
– 60 minute massage treatment at Komune's famous spa
– Tirta Empul Temple visit and cleansing ritual
– Unlimited access to resort's private Health Hub (pool, gym and café)
– 3x Daily Upstate classes – totalling 17 classes.
Box HIIT
Pilates
Power Flow classes
Yin classes
Meditation moments
We've themed our well-loved Upstate yoga classes to enhance your retreat experience. Each flow will target different areas of tension in the body and mind to create a full body connectedness and calm.
*(all dietary requirements catered for)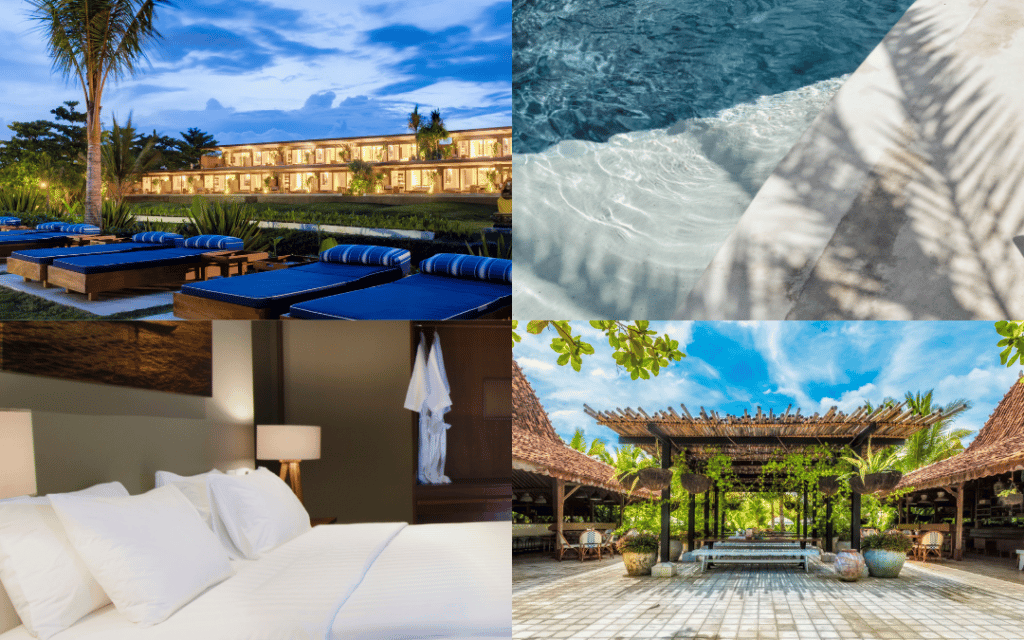 THE LOCATION
Set on the lush and unspoilt East Coast of Bali, Hotel Komune Resort and Beach Club is blessed with a hypnotising view of the world famous Keramas surf break.
With its pristine volcanic beach, this beachfront Bali resort offers a wonderful experience of spending leisure time in a natural luxury hotel.
TOUR THE RESORT
Did we mention Komune's Beach Club was rated top 5 in Asia? You'll see why…
Lush. Natural. Luxury.
A DAY AT THE RETREAT
– Wake up refreshed to the warm sunlight streaming through your window
– 6:30am Pilates or Box Hiit
– 7:30am Breakfast
– 9:30am Yoga
– Delicious lunch at your convenience
– Free time such as pool vibes, books, nap, spa, walk
– 5:00pm Yin + Meditation
– 7:00pm Dinner
– Unwind in the company of new friends or solo before laying your head down on soft pillows to a deep sleep
All classes are optional, so if you're feeling like a sleep in or a poolside reading sesh go for it!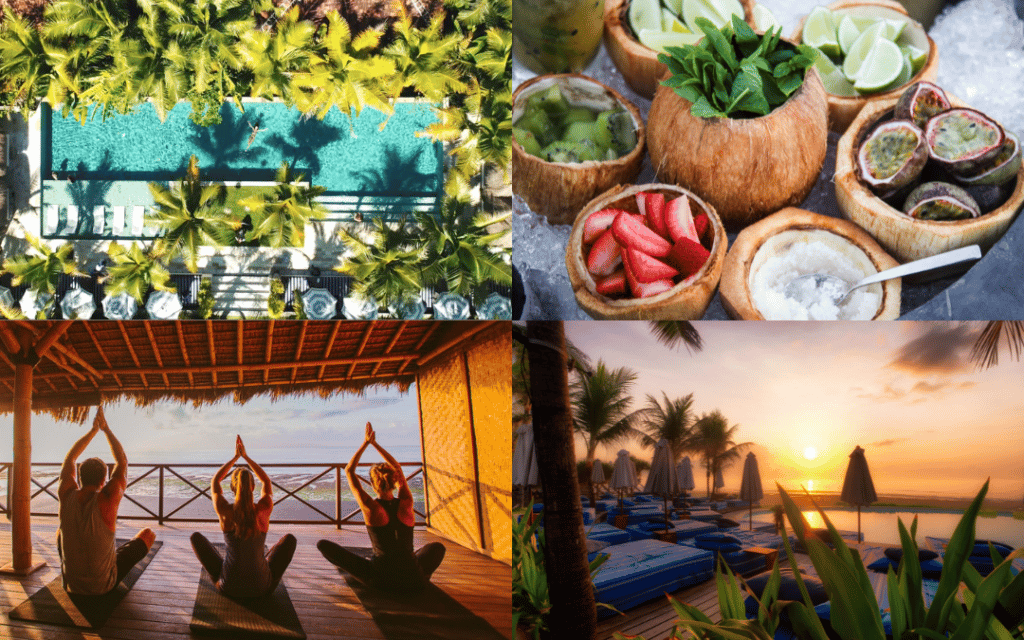 PRICING
Pricing (per person)
Early Bird Pricing ends Sunday, 15th August 2022
Twin Share Resort Room
Early Bird $2190 – Full Price $2490
~
Private Resort Room
Early Bird $2790 – Full Price $2990
~
Twin Share Beachside Suite
Early Bird $2790 – Full Price $2990
~
Private Beachside Suite
Early Bird $3790 – Full Price $3990
---
FAQ
TELL ME MORE
Q. Sign me up…how do I secure my spot?
A. Once we have received your $500 non-refundable deposit, your spot is secured.
Q. Do I need a visa to enter Bali?
A. No.
Q. Do I need to have a regular yoga practice or fitness regime to attend?
A. Our Upstate teachers are experts in delivering classes with plenty of modifications, so no matter your experience level, you will be able to enjoy the feeling of moving with the group. Classes are also completely optional. So if you do decide that a book by the pool or a rest in your peaceful bedroom is what's calling you most, go for it!
Q. I have special dietary requirements. Will that be a problem?
A. Not to worry, Komune Resort will cater to all your food requirements so you can relax knowing your diet will be taken care of. Please let us know in advance of any special requirements.
Q. Can I pay in instalments?
A. Yes we are more than happy to help you with a payment plan.
Q. Are flights included in the retreat price?
A. No. Guests are responsible for booking their own flights.
Q. How to I get to the retreat from the airport?
A. Upstate private transport is available upon request.
Q. What if I need to cancel? Will I get my money back?
A. If you cancel 60 days or more prior to the retreat, you receive the full amount paid with exclusion of the non-refundable $500 deposit.
If you cancel 60-31 days or less prior to the retreat, you will forfeit 50% of all payments made towards the retreat. No refunds for cancellations within 30 days of the retreat.